We acknowledge the First Peoples of this land where this work was conceived and created. We pay our respects to their Elders past, present and future and we honor their ongoing cultural and spiritual connections to Country. Sovereignty is not and never has been ceded. This has always been and always will be Aboriginal land.

open Page collective
Books available through our online shop
Poems by Don Ashby.
Graphics by Yolande Oakley
THE COLLECTIVE
The list below is incomplete as this website is still very much in it's infancy
ABOUT US
The Peoples Republic of Mallacoota Salutes You
Mallacoota 2020, after the fires, was the start of many journeys. Then came The Pandemic. Where each of us is now has been contingent on so many variables. We hope that where ever you are now is characterized by a sense of good health, safety, growth and achievement. We wish you luck in all that you set out to achieve. There is much ahead of us that is exciting. There is much ahead that will be a challenge. We have already proved our resilience and our community spirit. We will continue as we have started. Welcome to the new-new-normal- normal.
One of the deeply transformational things I have learnt from when the fires came by is that we stand and fall in direct relationship to our community strength. If we look out for, and care for each other then we will prosper. This is the secret strength of remote communities.
'The slings and arrows of outrageous fortune' have engendered many positive and creative projects. We have been inspired to cooperate in social and health related community-development projects, bricks and mortar projects and in the arts.
Many people have been inspired to put pen to paper and two books of community experiences published by Doctor Mubashar Sherazi. Yolande Oakley and Don Ashby have put together a collection of illustrated poetry centered around the fires and their aftermath. These books are available for purchase on this website until the editions are exhausted.
Part of our project has been the establishment of Mallacoota Community Book Shop. It can be found in The 'Marvelous' Muddie (Mallacoota Mudbrick Pavilion) on Friday and Saturday afternoons. Specializing in 'interesting and unusual' books donated by members of the community. We raise funds for arts activities within our community. Come along for a cuppa and a cake, select the books you would like and donate what you feel they are worth and what you can afford.
Mallacoota Radio 3MGB has been hosting a program (OPEN PAGE) during 2021-23 that discusses books and writing centered around The Mallacoota Community Book Shop. the program also features local community writing from the past and contemporary work. We are calling our contemporary work project '500 By Friday' Self explanatory – send us around 500 words (about a page) or less and the presenters – Kate Jackson and Don Ashby will endeavor to include it in the weekly program.
Our community has a greater than average number of published writers in many genres and on many subjects. these can be purchased at Mallacoota's local art gallery known as The Mallacoota Arts Space. We also plan to make some of these available for purchase from this website.
This website's name is Pyrren. The reason for this is historical. originally the site was imagined to be part of the recovery process for the community but circumstances overtook that notion and it is morphing into a writing and associated arts portal for the Croajingolong area Why Pyrren? The name is the blending of two words – Pyre is a sacrificial fire and Ren is a Confucian word for 'being the best you can be'. So there you go.
Where ever possible we will talk about Croajingolong rather than Mallacoota, we feel this is more inclusive encapsulating the whole south-east corner in which we all live.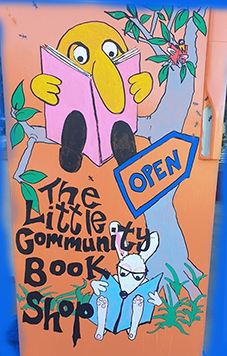 We will be inviting contributions from you as we plan to produce an annual anthology of local writing. Work less than about 500 words can be featured in our Open Page Radio Program long work will be collected for possible inclusion in our end of year anthology.
We would also like to include art works and photographs, so if you have something to submit – send it in.
2023 is the year of Creature Comforts – Home and Habitat. As we gets off to a flying start batten down the hatches for a fun year of reading and writing and talking about it.
Open Page Collective
LINKS
CONTACT US
Snail Mail – OPEN PAGE, PO BOX 270, MALLACOOTA, VIC. AU. 3892